2Ls, 2Es, and 3Es — Come work in the exciting, evolving field of national security law!
Submit an article. Join our journal.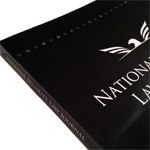 The National Security Law Journal ("NSLJ") is the only journal at George Mason University Antonin Scalia Law School to offer a unique comment-on option as an alternative path to journal membership. The comment-on process occurs twice per year and allows upper-class students (2Ls, 2Es, and 3Es) to compete for journal membership by submitting a piece of publishable quality on a national security law topic. Students who join NSLJ through the comment-on process are invited to join the journal as full Members, have the same opportunities and responsibilities as other full Members, and are eligible to compete for certain Editorial Board positions.
Scalia Law students looking to join our journal during the comment-on window must submit articles to Bianca Hancock-Siggers at bhancoc2@gmu.edu and will be reviewed on a rolling basis. We also ask that applicants submit a brief statement of interest (no more than 250 words), a résumé, and contact information. (Please see full details below.)
---
Comment-On Details
Purpose
The purpose of NSLJ's comment-on process is to provide an additional path to journal membership for students at George Mason University Antonin Scalia Law School and to help foster the production of exceptional scholarship related to national security law. The comment-on process is intended for upper-class students to demonstrate that they have mastered what our Candidate Members learn through their semester of Scholarly Writing.
---
Timing
– Spring Comment-On Window: Offers for conditional full membership will most years be extended in late June.
– Fall Comment-On Window: Offers for conditional full membership will be extended most years in late January.
---
Student Eligibility
The comment-on process is only open to 2L, 2E, or 3E students at George Mason Antonin Scalia Law School. A student submitting a comment-on application during the January window must have at least one full semester of law school left after the current semester (i.e., graduating the following December or beyond).
Students also must be in good standing at the law school, which will be verified by the Records Office. Applicants will be required to complete a Grade Release Form after submitting their application.
---
Article Requirements
Submitted student-articles may be on any topic of the student's choosing, so long as it relates to national security law and is not preempted by an already-published piece. The student-article must be solely written by the student submitting the piece for consideration. Student-articles should be 20-40 double-spaced pages in length, in 12-point Times New Roman font, and in proper Bluebook format. Please see our past issues for examples of law journal articles of publishable quality.
---
Submission Requirements
Students must submit articles to nsljcommenton@gmail.com and include:
i. an electronic copy of the submitted article in Microsoft Word or Adobe PDF format,
ii. a mandatory statement of interest in NSLJ (maximum 250 words),
iii. a current résumé, and
iv. current contact information, including name, class year, mailing address, e-mail address, and phone number.
NSLJ reserves the right to extend membership offers to those students whose articles meet NSLJ's publication requirements. Note that there is often a significant difference between papers written for class credit (even if the article receives a very high grade) and student-articles that are of publishable quality for an academic journal.
---
Membership Rights
Membership Status. Students extended a membership offer through this process are considered full members of NSLJ, but must complete all requirements asked of other full members during the spring semester to retain full member status. NSLJ retains the option to revoke full membership until the end of the spring semester if requirements are not fulfilled.
Research Responsibility. Like all NSLJ Members, those joining through the comment-on process will be responsible for a reasonable amount of research and cite-checking duties during their tenure.
Editorial Board Eligibility. Those joining through this process will be considered for full membership and will be eligible to apply for Board positions.
Consideration for Publication. Student-articles selected by NSLJ will be strongly considered for publication in an upcoming issue. In the event there is not space available for publication, NSLJ will assist with publication elsewhere. NSLJ has the right of first refusal for all articles submitted through the comment-on process.
Please note that our comment-on process is intended for students who want to join NSLJ as full Members. Accordingly, students must have at least one semester of law school left to be eligible to participate (see Timing and Student Eligibility sections above). Students who are not interested in joining NSLJ are welcome to submit papers for publication consideration after graduation, as our submissions policy is that we generally do not consider non-Member student papers for publication.
---
Why Join NSLJ?
Publication opportunities for student notes in our journal or on our website
Add to the legal debate in the exciting and evolving field of national security law
Only law journal at Mason available from Barnes & Noble and Amazon.com
A relatively new publication, offering exciting opportunities to shape our long-term future
NSLJ Fast Facts
One of just a few national security-focused law journals in the nation
Both digital and print edition published each fall and spring
Engaging events that complement our written publication, such as our symposium on DOD's Law of War Manual, featuring Mr. Matthew McCormack, Associate General Counsel from the Department of Defense; Dr. Nicholas Rostow, from the National Defense University; Mr. Harvey Rishikof, from the ABA Standing Committee on Law & National Security; and Mr. Tom Bowman, National Public Radio's Pentagon reporter.
---
Stay in contact!
Stay in contact and be sure you get the latest information from NSLJ by signing up for our e-mail newsletter. You can also like us on Facebook, view our YouTube channel, and follow us on Twitter.
If you have any questions, please contact our Managing Editor at admin@nslj.org.