Cracking Cyber
Description: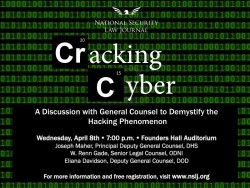 Cracking Cyber: A Discussion with General Counsel to Demystify the Hacking Phenomenon
The event will take place on Wednesday, April 8, 2015 at 7:00 p.m. Check-in and refreshments will begin at 6:00 p.m. The event will be held in the Founders Hall Auditorium of the George Mason University Arlington Campus, located at 3351 Fairfax Drive, Arlington, Virginia.
Please complete the form below for complimentary registration.
Event Registration and Ticketing Powered by Event Espresso