Our new identity captures the excitement and intrigue of the evolving field of national security law. The wings in our eagle logo are drawn from the stylized quill in the George Mason University logo, paying tribute to our heritage, while the typeface in our wordmark reflects the academic quality of our work. Together, they present a journal that is strong, innovative, and committed to quality scholarship for the 21st century.
Download the NSLJ Identity Guidelines – March 2013 (PDF)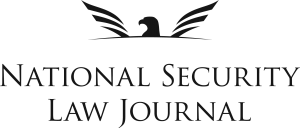 Download the NSLJ Logo
Positive Configuration (black logo, for use on white or light-colored backgrounds):
Reversed Configuration (white logo, for use on black or dark-colored backgrounds):
 
 
Version with URL (www.nslj.org) below wordmark:
 
 
Vector graphics, including EPS, Adobe Illustrator (AI), or PDF versions, are available upon request; contact alexander.yesnik@nslj.org.